How about a trip to Canada?
Ryan and I just took a quick trip up to Niagara Falls and Toronto.  He had never been to Canada so I tried to throw together a few things I loved about my road trips as a kid.
We took a straight shot drive up to Niagara Falls for about 6.5 hours from New York City on a Friday night.  We just missed the falls lit up, so definitely check the schedule and plan accordingly.
The Sheraton on the Falls Hotel is a great deal–we paid ~$90 for the most basic room and were upgraded to a high floor with a great view of the falls with Starwood Gold status.
In the morning this is what we woke to:
After a quick drive and walk along the falls to see them from different vantage points on the Canadian side (arguably the better view), we drove up to Toronto.
Our first stop is a New York Times favorite–Lai Wah Heen.  First picked up by FloFab in 1997 and reappearing many-a-times, the restaurant claims many dim sum hearts as people's favorite Cantonese stop in Toronto.  Everything was spot on and came out piping hot (often an issue with dim sum in North America and the popular cart style service).  Make sure to order these cute pig shaped glutinous rice meat fritters with garlic ears:

After dim sum and driving around Downtown to see the CN Tower, we struggled with what to do.  As a kid all I did in Toronto was visit family, see Blue Jays vs. Yankees games, go Chinese goods shopping and eat Chinese food.  Not to discount how awesome the Chinese shopping and food is, but I could understand the lack of appeal for someone in Toronto for the first time, and January isn't exactly baseball season.   Luckily, Ryan had a great idea: hockey.
With the Toronto Maple Leafs out of town, we were left with a minor league Toronto Marlies game. It was actually a lot of fun and I definitely recommend it!
Same day online tickets are limited–by the time we decided to go, they were no longer for sale. Luckily Ryan wasn't dissuaded and we walked up the ticket counter at Ricoh Coliseum with a bunch of well-garbed fans (and an unpleasant scalper who tried to sell us tickets for 20 CAD).  Turns out there aren't many levels at the stadium–just the 100s and the ~5 row lower level by the ice so all the seats are great. Our tickets in Row G of section 101 face value was 37.50 CAD, but a lovely woman approached on the ticket line to give them to us for free (so nice!).  The stadium capacity was 7.8k and our crowd was at 7.5k so even for a rivals game, I'm sure there were plenty of last minute seats left.
The local crowd was great and really into the game–this furry guy, Duke, teasing a fan from the opposing team helped too: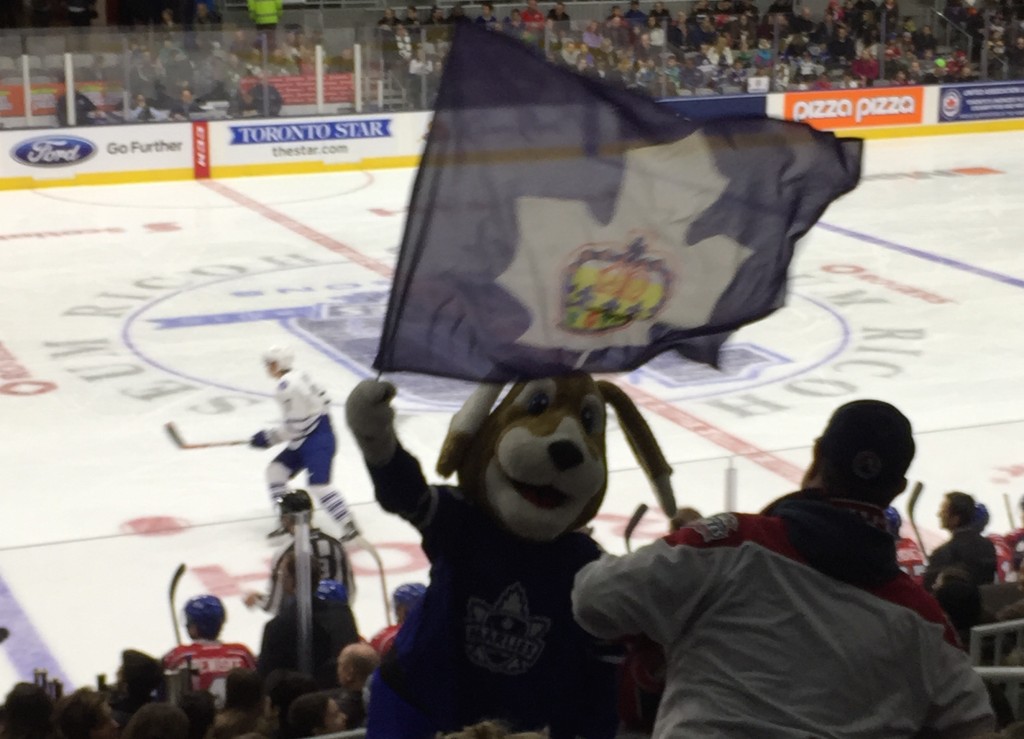 That night we ate some awesome Cantonese style casual food and checked into the Sheraton Parkway Hotel.  A no frills decent Sheraton with a really low rate at ~$90, the hotel is right in the center of really great Cantonese food!  We woke up and went to eat amazing rice noodles and congee at Sam's then started our trek back.

On the way back to New York we stopped at Anchor Bar in Buffalo, home of the original Buffalo wings.
All in all, a great quick trip!  If we had flip flopped and did Toronto first then Niagara we would have made it back in time for the last tour at 1:30 of the Frank Lloyd Wright Darwin D. Martin House and seen the falls at night, but there's always next time!
Sheraton on the Falls
SPG Category 4
Niagara Falls, Ontario
Sheraton Parkway Toronto North Hotel & Suites
SPG Category 3
Richmond Hill, Ontario
Lai Wah Heen (takes reservations and pre-orders)
Metropolitan Hotel Toronto
108 Chestnut St
Toronto, ON M5G 1R3
+1 416-977-9899
Sam's Congee Delight (no reservations)
4390 Steeles Ave E
Markham, ON L3R 9V7
See my explanation for staying in Starwood from my last post.